Kid Nostalgia Show
Bam's Butter Art Show is an homage to the spirit of inspiration, The Holy Spirit and the means by which the abundance of God heals not only our past but our future. Nostalgia becomes the means for looking ahead to the vision of a city alight with the hope of solutions that lead to love of all.
7pm June 24th
Belong Gallery
2712 W North Ave
(enter through alley)
Wild Moments, 2022
Acrylic on canvas
20 x 24
$350 $275
Created during a time of transition that brought up the intensity of unexpected life moments
Cali-Flora, 2022
Watercolor, Acrylic on canvas
24 x 36
$1,300 $900
An homage to the verdant surroundings of California and the role it played in producing my optimistic outlook.
African Imagination, 2022
Oil, Acrylic,  on Canvas
40 x 30
$1,600 $1,200
The way I've always imagined the continent with it's long rivers, dense forests and complex relationships. Unfolding and revealing facets of beauty found no where else.
Above the Clouds, 2022
Oil, Acrylic on canvas
36 x 24
$1,300 $750
A meditation on a child's first attempt at spatial reasoning and recalling object composition and how they abstract with our memories to create ideas.
Euro Imagination
Oil, Acrylic
40 x 30
$1,600 $1,200
With fire, smoke and pestilence Europe has been shaped by conflict and the subsequent victories and losses. I imagine the countries alive and full of artists and writers and those who heal through art.
At Creation, 2022
Oil, Acrylic and pastel on canvas
36 x 24
$1100 $800
Even as the face of the deep was formless and void before God spoke, there had to be a moment where the greatest potential of the darkness rose to the surface. Much in the same way we are creative beyond our life yet to be manifested.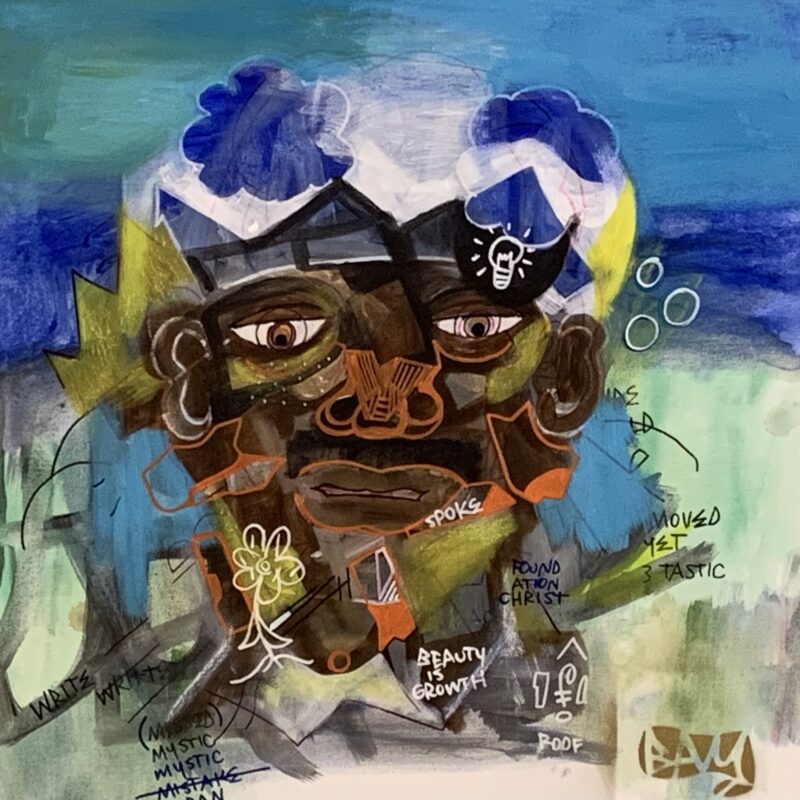 Urban Mystic, 2022 (SOLD)
Watercolor, acrylic, oil
24 x 24
$600
The world as seen through the eyes of one thought to be a mistake when in actuality it is one who sees and feels prophetically what humanity cannot or refuses to.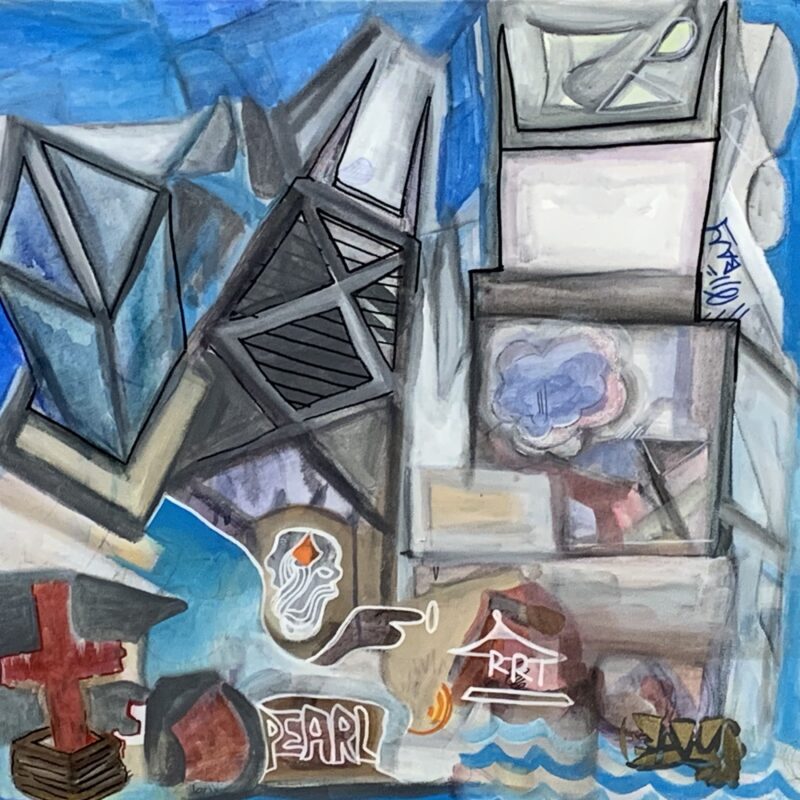 Chicago Heals, 2022 (SOLD)
Watercolor, Oil, Acrylic on canvas
24 x 24
$800
Chronicling my first days here in the city and the process by which healing will happen and begin to affect the parts of society untouched.
Before the Drought, 2022 (SOLD)
Watercolor, Oil, Acrylic on canvas
18 x 24
$350
An homage to the time of my youth before widfires and drought took hold in California. Memories of verdant fruitfulness and safety abound and sunsets characterize this work.
Freedom Found, 2022
Watercolor, Oil, Acrylic on canvas
18 x 24
$350 $275
Work about a moment when we released balloons at my elementary school with information attached and some contacted us to tell students info had been found. A time of innocence and freedom.
Fire Last Time, 2022
Watercolor, Oil, Acrylic on canvas
18 x 24
$350 $275
Memory of a fire that destroyed my yard as a youth and the fear that followed. But after all time does heal and we were able to resume playing after a few months.
Artwork Inquiry
Send your info to inquire about availability of work or commissions.
Nathan Stanton CV
Nathan "Bam" Stanton
b. (1981 Bellflower, CA)
Currently lives and works in Chicago, IL
bamstantonart@gmail.com l 773.837.1945
Bam is an emerging abstract artist working mainly in acrylics, watercolor and oils. He employs strong visionary skills that draw on inspiration from history, the bible and the unseen. His emphasis remains on bridging the gap between the races and facilitating unity.
Education:
School of the Art Institute of Chicago, Art History and Film, 2006
Exhibitions:
2012 I Can Do That, Chicago, IL
2013 Found onsite, Chicago, IL
2017 Forgive.US launch, Oak Park, IL
2017 Lincoln Square Art Walk Chicago, IL
Collections:
Private Collection, Chicago Area Private Collection, California Private Collection, Tulsa
Murals:
2017 Music and Dance Live in the Heart of the City, Harris Theater of Dance and Music, Chicago, IL
2018 WaldenPrairieSunAlsoRises, Oak Park Mini Mural 2018 Night Magic and Live Free, Oak Park Arts District
If the pen is mightier that the sword, then a paintbrush is an atomic bomb.
Nathan Stanton